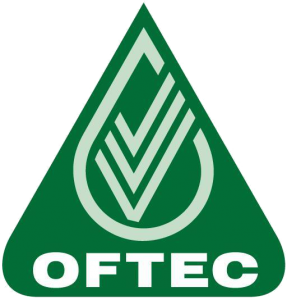 OFTEC is an Oil Firing Technical Association which represents the oil heating & cooking industry in the UK & Republic of Ireland.
OFTEC's present membership includes a number of large companies including Aga-Rangemaster, Clarehill Plastics, Grant Engineering, Firebird, Kingspan Environmental, Riello UK, Warm-Flow Engineering  & Worcester Bosch Group.
OFTEC was formed in 1991, it replaced the former Domestic Oil Burner Equipment Testing Association (DOBETA). Today OFTEC's logo incorporates the DOBETA symbol of an oil droplet  with three check marks.
OFTEC Role
Promote excellence in the oil heating & cooking industry by setting standards for manufacture, installation & maintenance of oil-fired appliances for the domestic consumer
Produce technical information for those installing and/or commissioning oil boilers, oil storage tanks and related equipment
Publish technical standards for domestic oil heating equipment
issue OFCERT© certificates to validate products manufactured in accordance with the OFTEC standards
Represent the views of the members to UK & Irish Governments, European Commission, Building Research Establishment, British Standards Institute/CEN & Environment Agency
Provide recognised training & assessment of installers through OFTEC-approved centres for training and maintain a register of technicians under the competent persons scheme
Inform consumers & technicians about the benefits of using oil (kerosene & bioliquids)